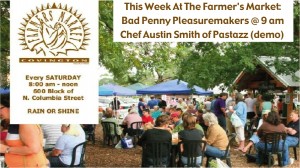 Hi, friends, and Happy Tuesday! The weather is beautiful and perfect for lunch at the market. Let me tempt you with smoky pulled pork sandwiches and baked beans, macaroni and cheese, or coleslaw. Need more? Nanette is serving a rich, hearty pumpkin soup with greens. Kandi's egg roll lunches are always a crowd-pleaser! Top lunch off with one of Frankie's mini pies or crunchy peanut brittle or a decadent caramel & chocolate covered apple from Lolly Marie and some toe-tapping music. Oh, yeah! I can see that smile.
Before you know it, it will be Saturday and what a Saturday we have planned! First of all the Bad Penny Pleasuremakers will be sending pleasurable tones from the gazebo. Doesn't their name suggest a great time? In the cooking tent, Chef Austin Smith (PaStazz) is back with his delectable sauces. I don't think you want to miss that!
Well, it seems parade season has started and you'll want to make sure that you are well-stocked with parade fare. So it's about time to reintroduce the "Parade Survival Basket" – you know… so you won't have to buy those parade route "treats" you really don't want the kids to have. After all, there are only so many roasted peanuts or cotton candy puffs a body can handle before regret sets in. A couple of those family sized cookies from Windfield, Betty Rue, or Teresa's and you're good to go and a few bags of Frankie's brittle would be a welcome treat. No basket would be complete without a few muffins hidden inside.
As far as food goes, there really isn't much to choose from on the parade route. I suppose there is McDonald's (pardon my language, please), BUT Nanette's veggie wraps, Betty Rue's pizzas, Nur's Tabouli or Lentil Quinoa Salad, Cynthia's Bolognese sauce and fresh pasta, or Hot Tamale Mama's veggie tamales make the best fast food in the world! Have you tasted Dolese's Stuffed Artichokes? Just heat and eat. (Were you really thinking Burger King?)
You'll enjoy your Parade Survival Basket so much that you'll be sad there isn't a parade every night. No worries! Just set up a few chairs on the front lawn, tuck your "Parade Survival Basket" neatly within reach, give the kids some beads, and let them parade up and down the sidewalk. Perfect parade – no traffic…the bathroom is close (and clean)…life is good…the whole neighborhood will want to join in. Don't forget to tell them where you got all the great goodies!
Nuccio's will be back at the market this Saturday so you'll have a chance to pick up a jar of olive salad for your salad or sandwich. Another old favorite has returned and nothing says breakfast like bowl of Lena's organic corn grits with chives and flax seed topped with a bit of Mauthe's creamy butter. Lena makes an awesome pancake mix as well. Sam has been busy sprouting cashew and pumpkin seed for organic cashew butter and pumpkin seed butter. Try the pumpkin seed butter on your homemade wraps. There are yummy treats in store for you at both markets this week.
Market-going can be just as exciting as parade-going but without the beads and trinkets no one can figure out what to do with afterward. But don't yell, "Hey mister! Throw me something!" at the vendors. Pies, jams, sauces, and veggies are not as easy to catch as beads. Come, join us, and pass a good time!
Lots of love,
Charlene LeJeune
Abundant Life Kitchen
The Covington Farmers' Market is open each Wednesday, rain or shine, from 10 a.m. to 2 p.m. at the Covington Trailhead, 419 N. New Hampshire and every Saturday from 8a.m. to 12p.m. on the side lawn of the Covington Police Station, 609 N. Columbia St. Call (985) 892-1873 for information or visit www.covingtonfarmersmarket.org