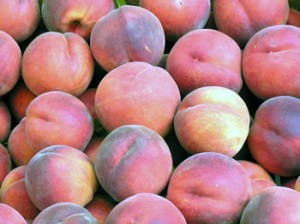 Happy Tuesday, friends! School is winding down and the temps are starting to climb as we march into summer. OK, so we're not quite there yet but don't let that stop you from enjoying a delicious lunch under our covered pavilion. We've even ordered a refreshing breeze just for you and our vendors are whipping up tantalizing meals. Frankie promised to have her old-fashioned banana pudding this week plus boiled and roasted peanuts. Jeff will have the smoker smokin' and producing incredible pulled pork. Rebecca (Spanish R Us) is back on Wednesdays with her pork or chicken tamales, empanadas and pupusas. Cynthia's whipping up her special Bolognese sauce with spinach or four cheese ravioli. Nanette's selection of raw salads such as the incredible Mediterranean salad or black bean and corn salad is sure to please and Kandi's fresh spring rolls are as light and refreshing as the day. How can you pass up lunches like these?
Saturday will come breezing in with the smooth crooning of Sweet Jones from the gazebo.  So grab your coffee and enjoy the music while you browse the summer crop on vendor tables. Spanish R U is back in the cooking tent this week. Their spicy seafood soup was so very good last time they were here. I can't wait to see what they have prepared from their menu for this week.
I am currently in Kansas for a graduation and had hoped to visit their Farmers' Market. I just wanted to check to see if it has grown any since last year. Unfortunately, their market doesn't open until June. How do they function without freshly picked veggies and yard eggs for 8 whole months!!??
Fortunately, the Covington Farmers' market is open year round, rain or shine, and we have plenty of produce from which to choose – heirloom squash, cabbages, beets, mizuna, spinach, onions, peaches…yes, peaches! Barbara will be there this Saturday with lovely, flavorful peaches – so delicious in Mauthe's yogurt. YUM!
Those heirloom or young yellow squash are so picture pretty that you may not want to eat them. But..…try slicing several into thick slices (½" or thereabouts), cut those slices into quarters, and place in a large casserole dish. Add a sliced onion (Bardwell's has some) plus a hefty pound of shrimp (with or without the shell) and toss with half a packet (or more) of my Shrimp on the Barbie seasoning and salt to taste (preferably Himalayan pink salt or a good sea salt). You could throw in some lemon slices and garlic if you desire, but it is just fine without. Top with pats of Mauthe's butter and bake. Puts a whole new spin (or should I say "swim"?) on squash. You could change it up by adding broccoli and/or chunks of new potatoes.
Cut up a plump hen from James or John and rub all over with Bechac's Roasted Garlic and Tomato dressing and let it marinate in the fridge for about an hour, then bake. As a side dish, boil new potatoes and eggs. While still warm, chop into bite-sized pieces and toss generously with Vincent and Mauricio's Skordalia, sprinkle with my Rub Me Tender or All N Sundry seasoning and a little pink salt for a divine twist on "potato salad". Add some chopped parsley, rosemary, and green onions for a delicious taste dimension. You could also do the same with leftover baked chicken – with or without the eggs. (Thanks to Pappa Joe for the original recipe.) Serve with a spinach salad with fresh squash (chunks or slices), green onions and sprouts and warm bread (spread with skordalia)! Windfield Farms and 7Grain have wonderful choices.
I am thankful to have access to a market such as ours! It just overflows with goodness, raw honey, fruity Popsicles, whoppin' fat stuffed artichokes, gourmet coffee, walnut paté, jellies and jams, bright vibrant flowers and plants. Bring your kids! Bring your friends! Bring your tastebuds! I know you'll enjoy it too!
Lots of love,
Charlene LeJeune
Abundant Life Kitchen
The Covington Farmers' Market is open each Wednesday, rain or shine, from 10 a.m. to 2 p.m. at the Covington Trailhead, 419 N. New Hampshire and every Saturday from 8a.m. to 12p.m. on the side lawn of the Covington Police Station, 609 N. Columbia St. Call (985) 892-1873 for information or visit www.covingtonfarmersmarket.org