An international exhibition of works by ten photographers on display at the STAA Art House from February 21 through April 4, 2015.

Although digital imagery is now the standard in the 21st century, the photographic image has its roots deep in the early 19th century and reaches as far back as the Renaissance era with the camera obscura. Throughout the 19th century more advanced printing techniques and processes were developed-ambrotype, tintype, photo-gravure and albumen. A few artists have remained dedicated to creating images using such techniques from the dawn of the photographic process, and this exhibition will showcase ten from around the world and right here in our backyard: Alex Sapienza of Dublin, Ireland; Dennis Ziliotto, Monselice, Italy; and Borut Peterlin, Dolenjske Toplice, Slovenia; Michelle Smith-Lewis, Seattle, WA; Euphus Ruth, Greenville, MS; Scott Anton, Solon, ME; Jeanne Wells, Turner, ME; David Armentor, New Orleans, LA; Robert Dutruch, Bush, LA; and Bruce Schultz, Lafayette, LA.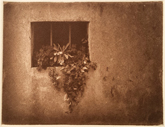 During the opening reception, 6-9 pm on Saturday, February 21, visitors will be able to watch demonstrations of the tintype process and purchase a portrait of their own as David Armentor will be on site offering portraits throughout the evening. A portion of the sales will support educational programming at the St. Tammany Art Association. Advance reservations for portraits are recommended, call 985-892-8650 for details.
In coordination with the exhibition STAA has scheduled hands-on workshops illustrating the tintype and lumen printing processes. Space is limited. See articles below for more details.
The exhibition, sponsored in part by Lost Hills Studio, will be on display at the St. Tammany Art Association located at 320 N. Columbia St. in downtown Covington, LA.