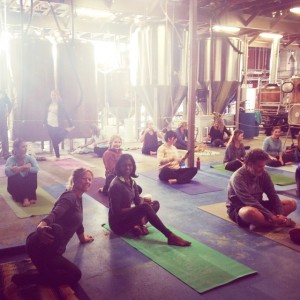 Everyone will need some body-bending, mind de-fuzzing yoga and sweet, refreshing brews after all of that Thanksgiving feasting this week! Join Liz Bragdon & the great folks at Covington Brewhouse on Sunday, November 29, at 11 a.m. for Down Dogs & Drafts. Stretch the old week away and welcome the new surrounded by friends, kegs, and the charm of Downtown Covington. Sweat, find your Warrior, rediscover your balance, embrace your Down Dog and drop into some delicious moments of inner peace – then have a few beers! Kombucha Girl Living Beverages water kefir is also on tap.  Drink it up straight or mix with your favorite beer.  The seasonal beer selection is Winter Warmer, but every delicious Covington Brewhouse flavor you love will be flowing! Yoga Class is 11-12 , and beer-drinking is from 12 'til close.
Tickets are $10 if you pre-purchase and that price includes your yoga class and 2 beers.  Tickets will be $12 at the door.
This event is limited to 25 people, so pre-purchasing your tickets is strongly recommended. You can pick them up at the Tasting Room or call Erin: 985-893-2884
Please wear layers, bring a yoga mat, a water bottle, and a small towel.
They'll be tuning into the Saints game after the class, so you can spend the whole afternoon hanging at the Tasting Room and enjoying Covington's best local beer!  www.covingtonbrewhouse.com