The Northshore Food Bank's Resale Shop will be moving this week to a new location.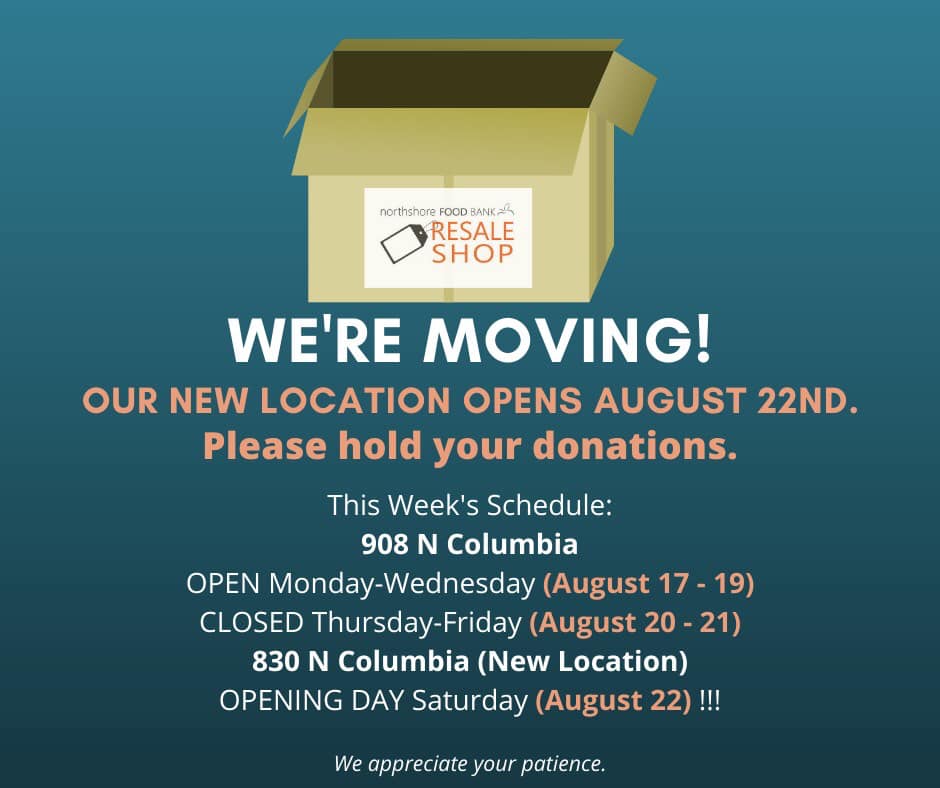 Information about the Northshore Food Bank's Resale Shop from www.northshorefoodbank.org:
The Resale Shop offers a wide variety of clothing and household items. We rely solely on the generosity of the Northshore community and appreciate being trusted as your donation recipient. The Resale Shop accepts and sells everything from major appliances in good working order to like new, gently used furniture, household gadgets, clothing, jewelry, and more. We regularly provide clothing and housewares free of charge to individuals in need including Food Bank participants, people impacted by disasters such as fires or flooding, as well as those participating in programs at other non-profits including Safe Harbor, Family Promise, James Storehouse, and more.
If you would like to donate like new, gently used furnishings or appliances, but lack the means to bring them to the Resale Shop, please contact us at 985-892-5282 to schedule a free pick-up. Our home pickup service is provided for those residing in St. Tammany parish. We are unable to move items from upstairs locations, or break down furniture. Please make sure all items are located on the ground level of your residence. All items must be in like new, gently used condition which would exclude broken, stained, torn, or rusted items. Pickups typically occur between 9:00 am -1:00 pm on Tuesdays. We can provide an approximate 30-minute phone call before pick up, if requested. We reserve the right to refuse pick-up onsite if items are not in acceptable condition.
The Resale Shop is operated by employees and supported by many dedicated volunteers. Donations must be sorted, priced and staged in the store for sale. Volunteer placement is available six days a week. If you would like to learn more about volunteer opportunities at the Resale Shop, click here.
Though we greatly appreciate everyone who wants to donate to The Resale Shop, we are unable to accept all items. Certain items have safety regulations, or resale restrictions, and some just don't sell. Northshore Food Bank Resale Shop does not have the ability to repair, clean, or fix any items donated. We do not want to dilute our time or resources from supporting the overall Food Bank mission. If you are unsure if your donation is appropriate for the Resale Shop, feel free to call us at 985-892-5282 to confirm.
Donations are accepted Monday through Saturday 9am-3pm. Tax receipts are available at our front counter.
COVID-19 HOURS NOTICE – DONATION DROP OFF GUIDELINES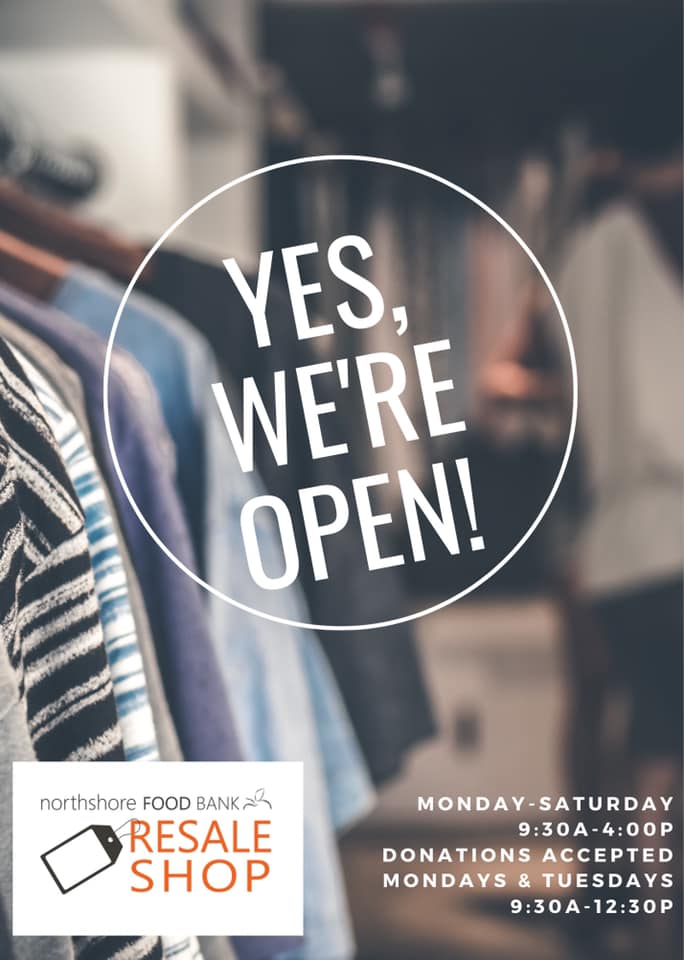 Donations are currently accepted on Mondays and Tuesdays from 9:30a-12:30p behind the Resale Shop.
To make sure this is a contactless donation and safety is maintained for everyone, we have the following guidelines:
We will only serve one vehicle at a time so please be patient. We will move as quickly as possible, but safety is our number one concern.
Please place all donations in a box or a bag. No loose items! Do not bring your donations in containers you want returned (like plastic tubs) this will slow down the line and will not be accepted.
Your items need to be separated- for example: clothing all in one bag, shoes in one bag, electronics in a box etc. Items that are not separated will not be accepted.
When it is your turn – please exit your vehicle and place your donations in the disinfected bin provided for you. Our employees will not be allowed to retrieve your items from inside your car.
At ALL times you and our employees will need to be wearing masks. If you are not wearing a mask, you will not be able to donate. Also remember to stay six feet apart.
At the end of your donation, you will be given a tax receipt.
List of items WE ARE NOT TAKING AT THIS TIME:
No holiday items (Thanksgiving, Christmas, etc)
No mattresses ,knives, computers, car seats, ceiling fans, sheets or comforters
No winter clothing—only summer clothes and shoes
No undergarments- underwear, stockings, bras or socks unless in packaging
NO magazines
Any furniture that you would like to donate needs to be approved- please email 2-3 pictures of your item to sdonnelly@northshorefoodbank.org.
Include your name and phone number in the email please.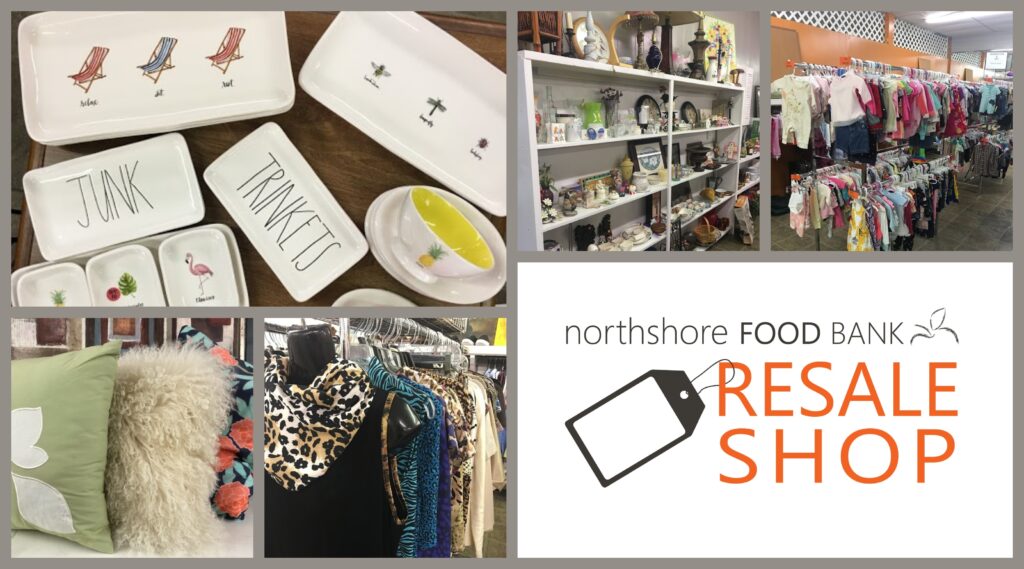 SHOPPING GUIDELINES
We are now open for shopping Monday-Saturday 9:30a-4:00p.
Staff and shoppers are required to wear masks.
Only two people per family can shop together (children must be 12 and older).
Social distancing guidelines must be followed.
Resale Shop will be limited to 15 people on the sales floor at any given time.
All surfaces will be cleaned multiple times per day.
A sneeze guard has been installed in front of the register.
Donations will only be accepted on selected days when the store is not open.
Thank you for your support of Northshore Food Bank and for helping keep our staff and volunteers safe!
The Resale Shop's focus is serving the community through raising funds to support food purchases for Northshore Food Bank. Learn more at www.northshorefoodbank.org