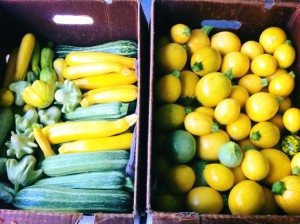 Good afternoon, friends, and Happy Wednesday! Is the summer really half gone already? Maybe I should think positively – we have half the summer left to enjoy! I know you're all ready for another sensational week at the market. Our vendors are all ready too! Come and indulge in a wonderful, satisfying Wednesday lunch with us.
This Saturday, you'll find yourself tapping your toes to the delightful music of The Low Amps. Enjoy a cup of coffee or kombucha while you munch some of Nanette's wonderful raw treats. Energized? Now you are ready to shop! This week, market vendor and chef, Austin Smith of Pastazz will prepare samples of small ravioli with parsley and basil oil and rustic tomato sauce. If you haven't tried his pastas, ravioli, or dinner rolls yet, now is the time. Large ravioli with spinach, cream cheese and yard eggs will be available for sale.
It was soooo good to be back at the Market last weekend! I miss so much when I'm gone. I found that we have two new vendors with (naturally) incredible foods and next weekend we will have a new produce vendor. Robin makes spicy pepper jellies. Now, I know you're thinking to yourself, how many different ways can you fix pepper jelly (I know 'cause I was thinking that myself). Amazingly, Robin has lots of flavors ranging from Strawberry Daiquiri to Blackberry Cabernet to Red Onion and lots of ways of cooking with them. She was telling me about using different flavors when grilling, for example, pineapple for grilling chicken or shrimp. It sounds so yummy – it's on my list for next week. I'm not sure which I'll choose, though.
I also checked out a new pie vendor, Windowsill Pies. Nicole has some beautiful pies that are very reminiscent of those pies you see on the windowsills in the movies. During the summer, you can choose from Blueberry Lavender Honey to Strawberry Marguerita Chiffon Tart to Passionfruit Raspberry tart. Don't they sound absolutely too good to be true? You won't know if you don't check it out for yourself.
I saw Southy at Nick's tent on Saturday, surveying the butternut squash.  It is a variety of butternut squash that has a richer flavor. I'll bet that means Southy will have some delightful cool summer soup this week. The butternut squash got me to thinking about a recipe idea from last year – butternut squash lasagna! Last year, I used this to stuff manicotti with delicious results but a pain in the tushie to prepare. I peeled, seeded and diced the squash, tossed with a little Nuccio's Cajun olive oil (the Garlic would be great as well) and popped them into a 350° oven to roast until tender. Then I browned the ground pork that I got from Justin. When the meat was browned, I added chopped banana peppers, onion and garlic and cooked it down until the onions were clear. Then mix in the roasted squash. In a casserole dish, put a layer of the squash mixture, next a little grated cheese from Farmhouse Dairy or Mauthe's Dairy. A layer of lasagna noodles will go next followed by some avocado salsa from Spanish R Us. Repeat those layers one more time, finish with cheese, and bake. Nick, save me some of those squash!
We had such a terrific time this past week and so many great treats to be had. Gee, we'd hate for you to miss out. Don't just pencil us in…be there!
Lots of love,
Charlene LeJeune
Abundant Life Kitchen
The Covington Farmers' Market is open each Wednesday, rain or shine, from 10 a.m. to 2 p.m. at the Covington Trailhead, 419 N. New Hampshire and every Saturday from 8a.m. to 12p.m. on the side lawn of the Covington Police Station, 609 N. Columbia St. Call (985) 892-1873 for information or visit www.covingtonfarmersmarket.org