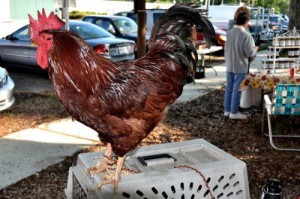 Happy Tuesday, friends! Prepare for swirls of sunshine and blue skies tomorrow with maybe a wisp of cloud. It may be a little chilly but the sunshine will take care of that quickly. Good food, good music, good friends – oh my!
We have a new vendor joining our ranks. Cynthia of Cucina Cinzia has canolli (ricotta, sugar and imported vanilla), hand-crafted fresh pasta and a lovely Bolognese sauce to go with. Last week her pasta choices included sage, broccoli, roasted tri pepper, roasted red pepper and traditional. Stop by for a taste. She will be at the Trailhead on Wednesday with a lunch special and on Saturday you'll find her in the back next to Farmhouse Dairy. Also on Wednesday, you'll find our other incredible vendors with hot bean soup, smoky pulled pork, crispy egg rolls (and Pho for home), tummy-tantalizing gourmet chocolates (raspberry, mint, caramel), crunchy nut brittle (pecan, cashew, peanut), tangy pepper jellies, and lots of fresh veggies. Any one of Robin's pepper jellies will make a delicious spicy vinaigrette – 2 tablespoons of pepper jelly, 2 tablespoons of vinegar, 2 tablespoons of olive oil and a dash of Dijon mustard, whip it together and Voila!
We are thrilled to have the Deslondes entertaining us on Saturday. So enjoy a great cup of coffee, a pumpkin muffin (Betty Rue) and spend some time visiting with your favorite vendors while you await our treat of the day – Susie Banck's incredible king cake. Stop by the demo tent for a taste and pick up one to take home. You won't regret it.
Check out what's happenin' on the veggie scene. You really can't beat freshly picked veggies. Even the local produce at the supermarkets is picked early so they can get it to the stores and still have a shelf life. Our vendors pick the day before so it's as fresh as it gets without going into the garden yourself. We've got a variety on the tables including a few lettuce mixes, butterhead, romaine, oak leaf (very unique shape), etc. Spinach and kale abound as well as turnips and green onions. The Asian greens have been joined by an Asian beet – Chioga beet – which looks like a bullseye when sliced. Picture that on your salad! Sam's Sprouts can top that with red clover, mung bean, or pea sprouts. Serve with one of Angel's huge stuffed artichokes or a steamy hot bowl of Southy's red lentil chili, sit back and enjoy!
James has lots of oyster mushrooms lately. Sauté them in Maute's butter with onions, garlic, and a pound of Mr. Two's shrimp and you have an incredible meal. Add a side salad with lettuce spinach, sprouts, sliced green onions and a little goat cheese from Tiffany (Farmhouse Dairy), a drizzle or two of Bechac's Honey Creole Dressing, and finish with "croutons" (Lena's toasted focaccia sticks broken into chunks). Dong will have those tasty little Buchimgae (don't ask me to pronounce it) that he had last weekend. Simply put, it's a Korean pancake made with flour, water, onions, pumpkin, and garlic chives. Yumm-eee!
So where will you be this week? Do you need your week brightened, your taste buds tweaked, an adventure for your senses? We've got the smiles. We've got fresh veggies. We've got a smorgasbord of culinary delights. We've got Tabasco. Let the adventure begin!
Lots of love,
Charlene LeJeune
Abundant Life Kitchen
The Covington Farmers' Market is open each Wednesday, rain or shine, from 10 a.m. to 2 p.m. at the Covington Trailhead, 419 N. New Hampshire and every Saturday from 8a.m. to 12p.m. on the side lawn of the Covington Police Station, 609 N. Columbia St. Call (985) 892-1873 for information or visit www.covingtonfarmersmarket.org to sign up for Charlene's fantastic weekly e-newsletter.