Block Party kicks off again this Friday, July 31st from 6:30 – 9:30 pm in downtown Covington! The St. John's Historic District features many fantastic restaurants, watering holes and great shopping at local retail stores. The cars line Columbia and Boston Streets and music fills the air as downtown comes alive on the last Friday of the month through October. Streets are closed to vehicle traffic and open for pedestrians along Boston Street between Florida and N. New Hampshire streets in addition to the traditional six blocks of Columbia Street.
The City of Covington welcomes classic cars to line the street for visitors to peruse and enjoy. For inquires about participating in the monthly car shows, classic car owners can call 985-892-1873 or email gottaluvcov@covla.com.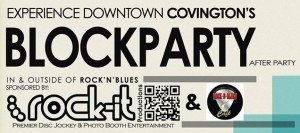 Columbia Street Rock N Blues Café at 407 N Columbia Street offers a full menu of food and drinks, plus live entertainment provided by Rock-It Productions, including a light show, photo booth, and DJs inside and outside in the Bass Wagon. Call (985) 892-9949 for more information.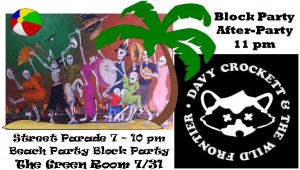 The Green Room at 521 E Boston Street features live music by Street Parade featuring Paula Rangell from Paula & the Pontiacs on sax & vocals, Mike Coscino on guitar and vocals, & the inimitable Peter Philebar lead vocals from 7 – 10 pm. It's a Beach Party for the Block Party – no cover charge! Don't miss the after party with local rockers Davy Crockett & the Wild Frontier, kicking off at 11 pm! (985) 892-2225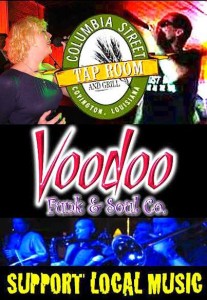 Columbia Street Tap Room Bar & Grill at 434 N Columbia Street features Gypsy River on the patio at 7 pm with no cover, and Voodoo Funk & Soul will be hitting the stage inside at 10 pm – $10 cover. Call (985) 898-0899 for more info.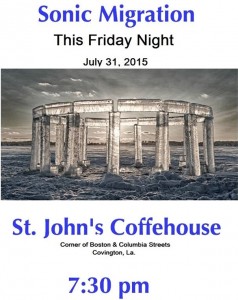 St. John's Coffeehouse at 535 E Boston Street will host Sonic Migration during Block Party, featuring the very talented Dave Easley and Cassie Krebs, starting at 7:30 pm. Join them on a musical journey!
PSTI Collecting Signatures at Fracking 101 during Block Party
The Preserve St. Tammany Initiative will be at 527 Boston Street collecting signatures for their Citizen's Mandate, because industry should pay for its own costs and risks, not the taxpayer. More: preservesttammany.org