I, like many people, was immediately thrown off okra the first time I tried it. It was stewed, maybe even from a can, and the slimy consistency made me want to gag. For years I put off okra as one of those "gross" vegetables – until I happened upon pickled okra (probably in a Bloody Mary). I never knew okra could be so delicious! Crisp skin, little flavor seed bombs – I was hooked. And I wondered, how could I make an okra dish taste this good?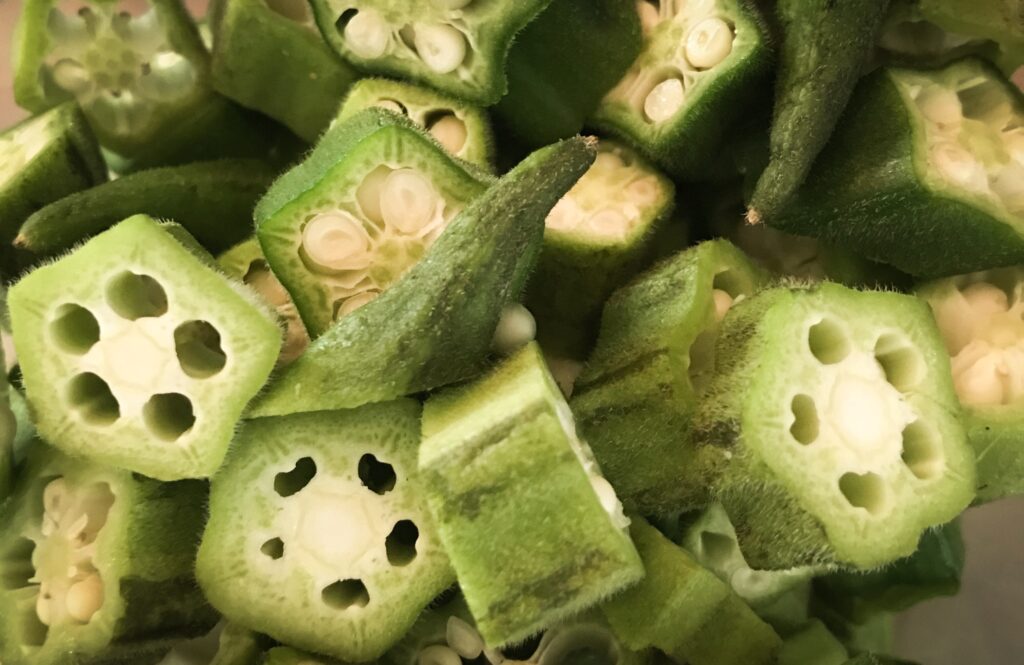 So I tried, recipe after recipe. Some said the acidity of tomatoes will cut down the slime, others swear that you need lemon juice to do the trick. I have found a splash of apple cider vinegar to be the secret to a truly slime-free okra dish. Finishing off in the oven gives a nice crisp texture and helps to cut back the acidic bite. You might add a bit of honey, too. We just add a couple spicy peppers, such as cayenne or tabasco. PS, this is a great recipe to pull out the cast-iron skillet!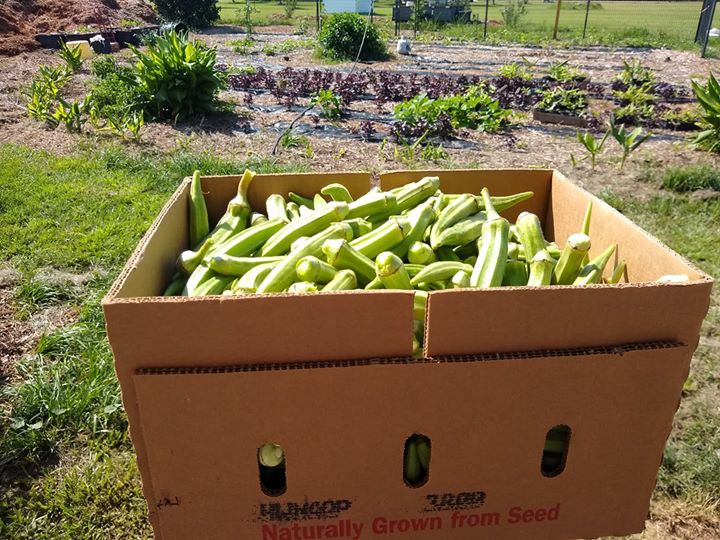 Okra is all the rage at the Covington Farmers Market these days! Check out this bountiful harvest from Sam's Sprouts!
Ingredients:
high-heat cooking oil
1-2 # fresh okra, sliced 1/4 inch, tops removed
1/2 medium yellow onion, rough chop
2 – 3 medium creole tomatoes, diced
2 – 3 cloves garlic, minced
2 Tbs fresh basil, chopped
2 tsp dried oregano
2 tsp dark chili powder
2 tsp paprika
1 Tbs apple cider vinegar (Braggs is awesome)
Juice of 1/2 lemon, about 1 1/2 Tbs
Sea salt & fresh ground black pepper
Optional: a tablespoon of honey, a couple hot red peppers or pepper flakes
Directions:
Preheat oven 350 degrees.
Heat a large oven-proof skillet on high, add enough oil to lightly cover the pan. The trick here is to keep this dish as dry as possible by cooking off liquids. A good flash sear on the okra first will do it.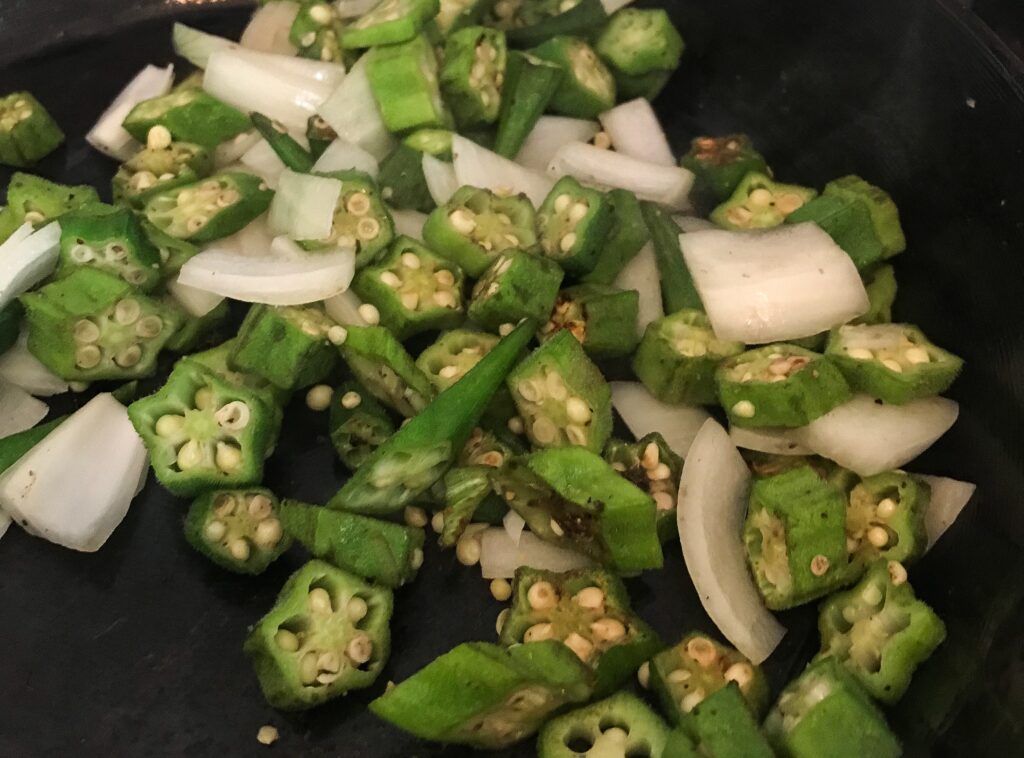 When the skillet is hot (drop of water sizzling away hot) toss in okra with a little salt and pepper. Cook about 5 minutes, then add onions. Saute until onions are tender, then add tomato, garlic, herbs, spices and apple cider vinegar. If you are adding hot peppers, do so now. Mix evenly with a little more salt and pepper to taste. Let simmer for 5 – 10 minutes, until vinegar has absorbed and tomatoes have cooked down.
Toss in lemon juice and pop it in the oven. Roast for 10 – 15 minutes – until okra and tomato tops begin to get crispy and a good bit of the liquid has evaporated. If you are adding honey, toss in now and let cool slightly before serving.