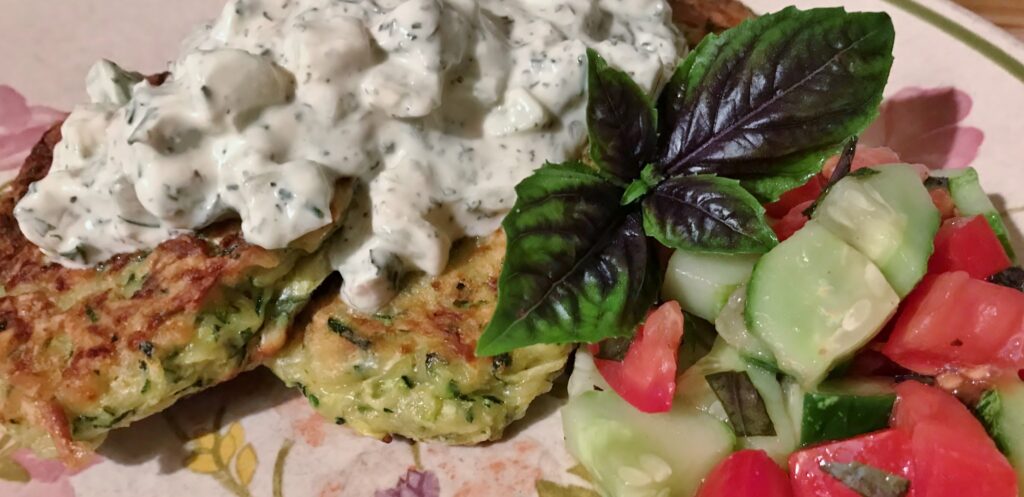 Crispy zucchini fritters with a Mediterranean twist! Serve topped with this tzatziki recipe here, or pick some up from Nur's Kitchen. Hot fritters are great over warm pita bread or fresh greens. Pairs great with this tart and sweet cucumber tomato salad. Make use of these great summer veggies!
Zucchini Fritter Ingredients: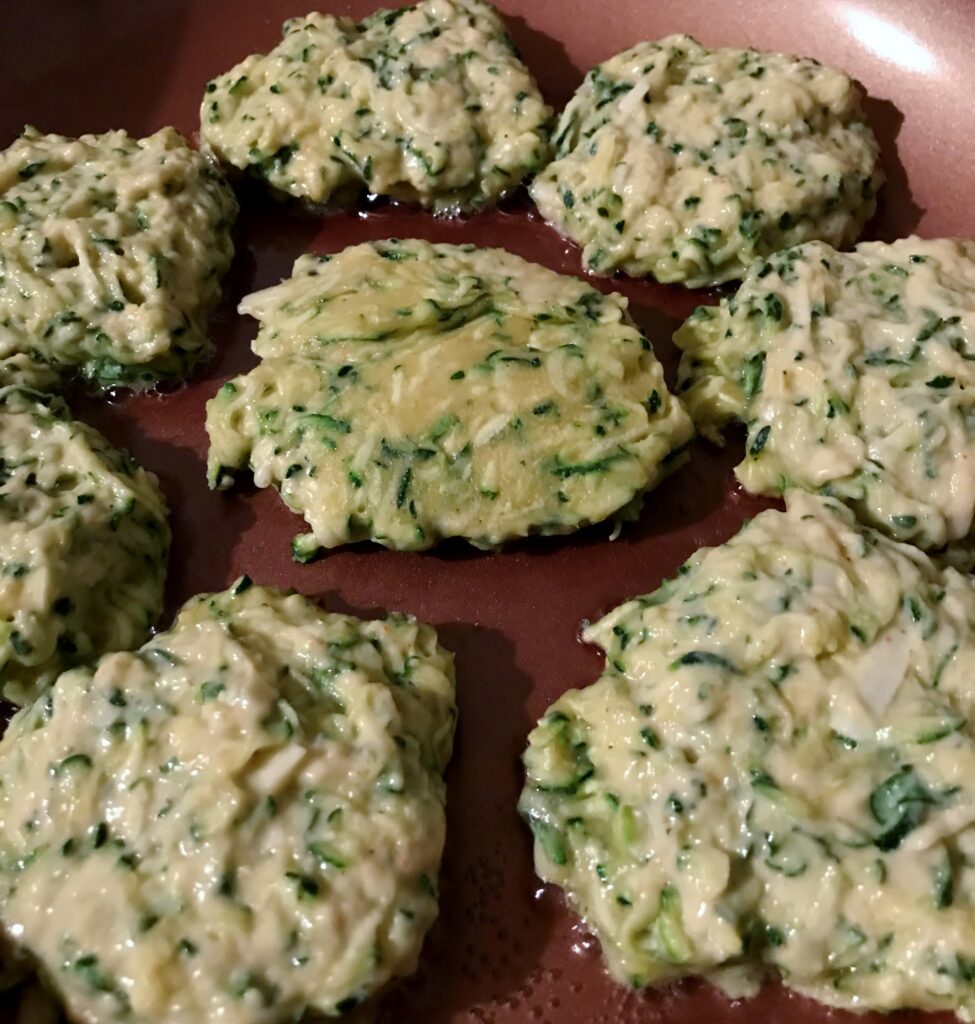 2 medium zucchinis, shredded
2 large eggs, beaten
1/4 cup chopped fresh parsley
1/4 cup chopped fresh basil
2 Tablespoons chopped fresh dill
1 Tablespoon garlic powder
2 teaspoons dried oregano
2 teaspoons paprika
2 teaspoons sea salt
1 teaspoon fresh ground black pepper
2/3 cup to 1 cup of all purpose flour
1/4 cup fresh grated parmesan
high-heat cooking oil
Cucumber Tomato Salad Ingredients:
Note: I like to leave a little cucumber skin on for texture, and I only remove the big, harder seeds. Some would remove all the seeds and peel the whole thing. This depends on both the type of cucumber you are using and personal preference.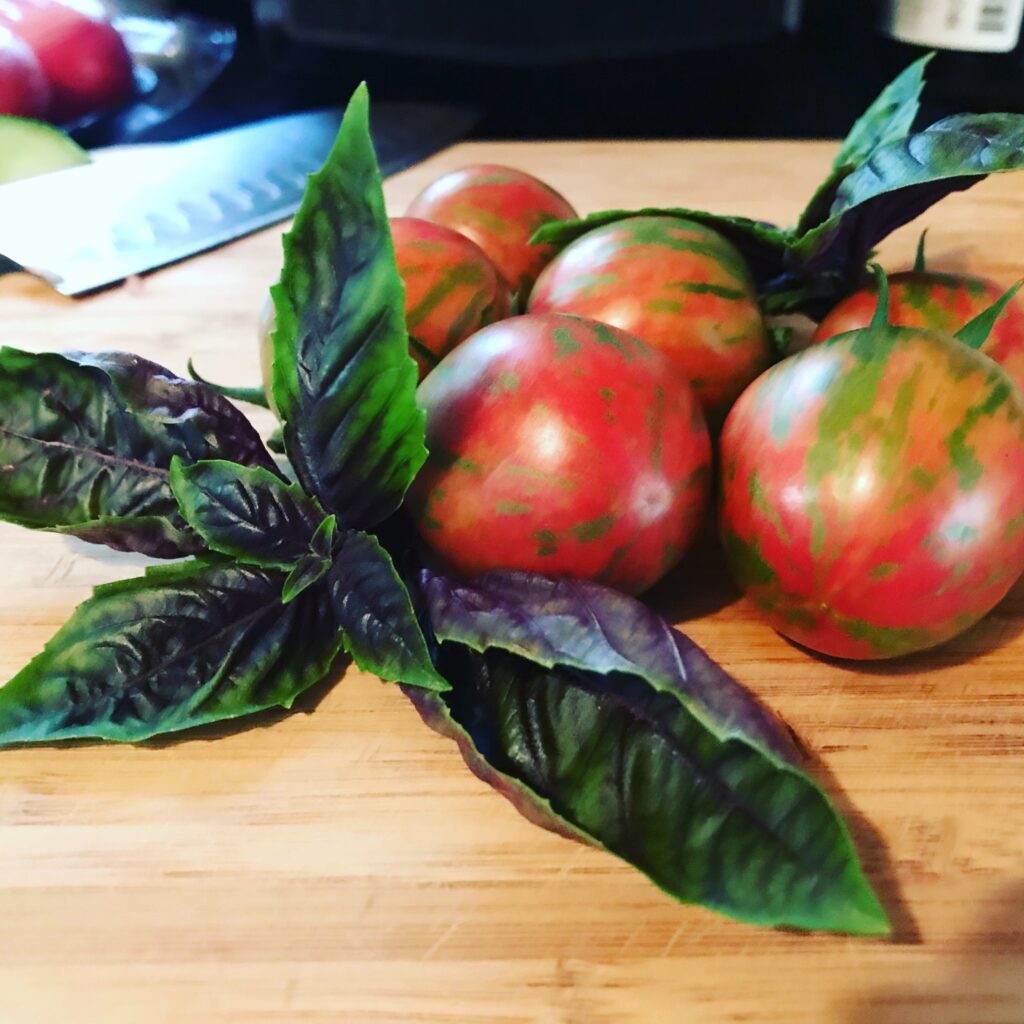 2 medium cucumbers, partially peeled & de-seeded, sliced & chopped in 1/4 in cubes
1 cup chopped cherry or other smaller tomato (i used some vernissage tomatoes from the garden)
1/4 of a small red onion, sliced extra thin
3 Tablespoons chopped basil
2 Tablespoons mildly flavored oil, such as sunflower oil
1 Tablespoon red wine vinegar
2 teaspoons fresh squeezed lemon
2 teaspoons fresh local honey
1-2 teaspoons sea salt
1 teaspoon fresh ground black pepper
1 teaspoon dried oregano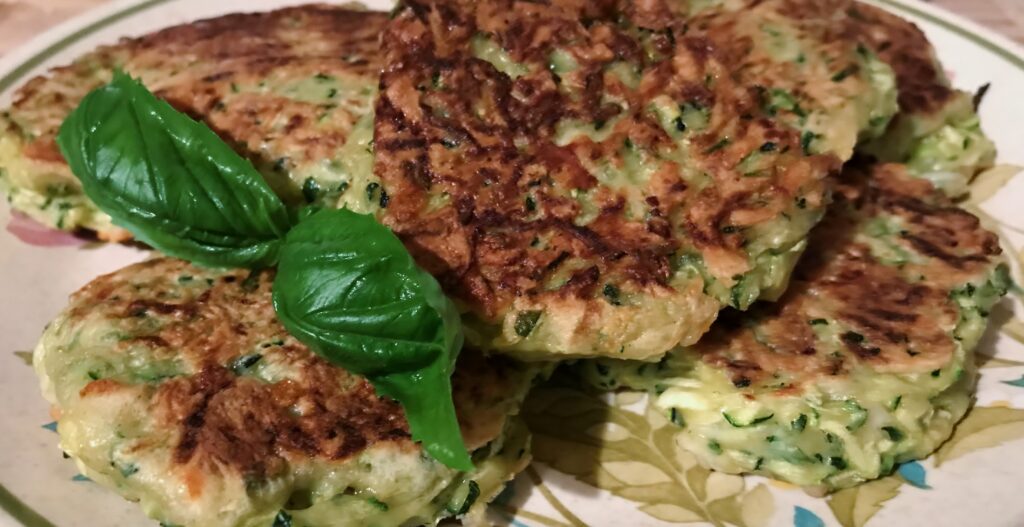 Directions for Zucchini Fritters:
Shred zucchini into a colander in the sink and sprinkle liberally with salt. Toss a few times for even coverage and let sit for about 5 – 10 minutes.

Meanwhile in a large bowl whisk up the eggs, herbs and spices.

Strain out zucchini by balling up in your hands and squeezing over colander. You want to get as much liquid content out as possible for crispy fritters. You can begin adding the strained zucchini to your egg mix.

Once you have strained out all of the zucchini you can mix it in with your eggs. You can also add the grated parmesan in now.

Mix in 1/3 cup of the flour, then continue to add until you have a thick, workable consistency. This can usually be achieved with 2/3 cup, but sometimes a whole cup, depending on your zucchinis.

Heat enough oil to cover the bottom of a large skillet on medium high/high heat. Make sure the oil is hot before dropping the fritters. Scoop the mix with a medium spoon, about 2 Tablespoons per. Space evenly with at least 1/2 inch room.

Cook 3 – 4 minutes, until bottom is golden brown, then flip. Push down with your spatula for a nice even thickness of about 1/4 inch. Check in 2 – 3 minutes. When golden and crispy, sprinkle lightly with sea salt and transfer to paper towels to cool slightly before serving.
Directions for Cucumber Tomato Salad: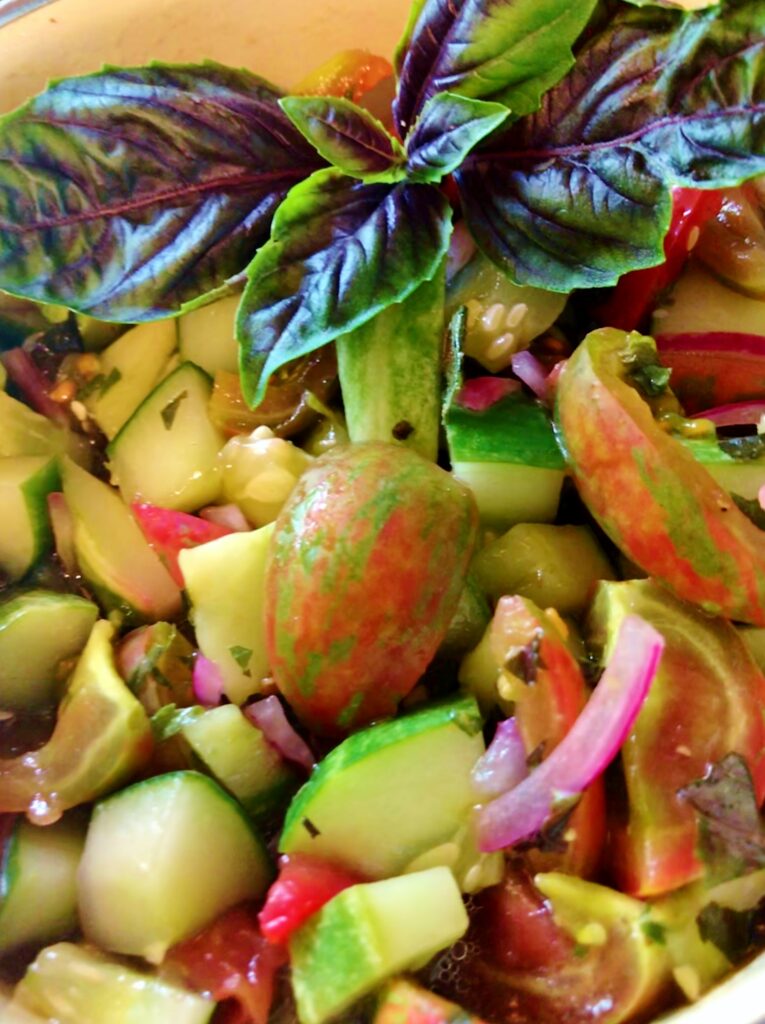 Toss all ingredients together. Make ahead to marinate for 1 hour – can be kept refrigerated for up to 2 days.
You can add fresh crumbled feta when serving for an extra zing!