Pasta Primavera with a fall twist!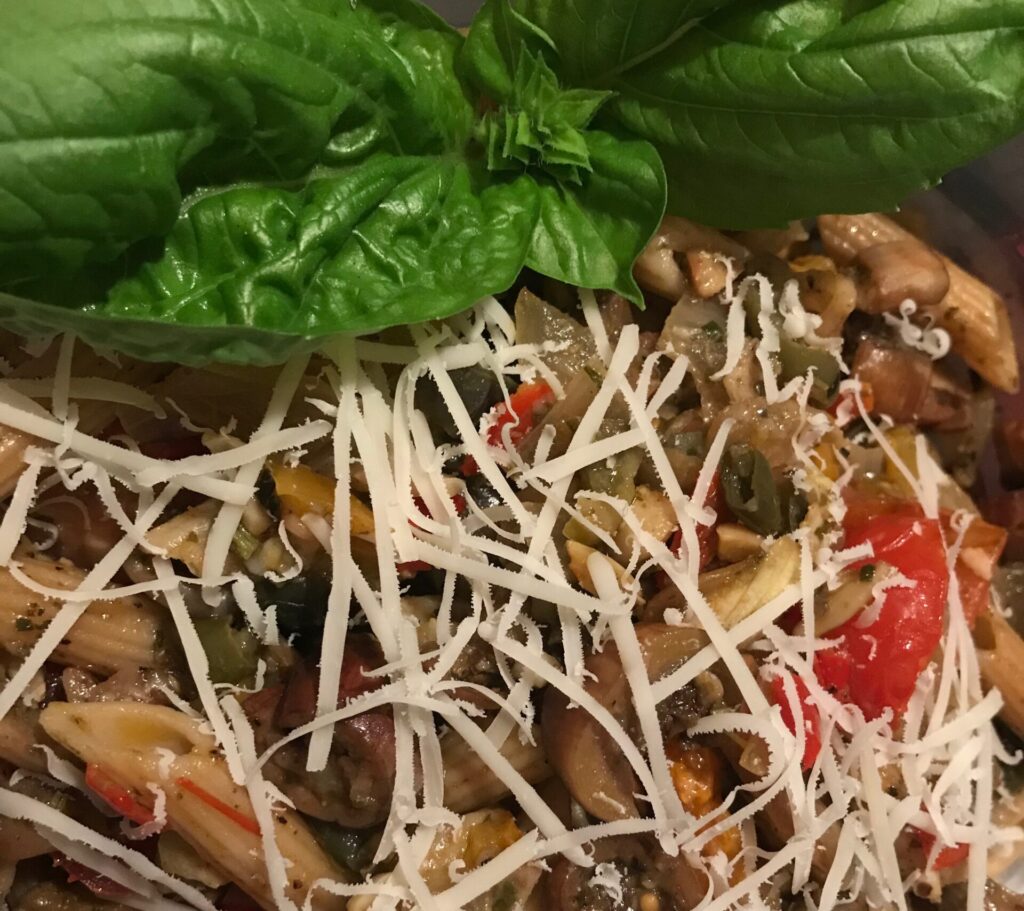 Recipes inspired by fresh, local ingredients by Chelsea Cochrane
Many are familiar with the dish "pasta primavera", but most are unaware that despite its very Italian name and inspiration it actually originated in America. First popularized in the mid-1970's by the New York City restaurant Le Cirque, the dish consisted of fresh seasonal veggies and a butter-cream sauce over pasta. The dish's name, primavera, means "spring" in Italian, and as it suggests, usually features springtime vegetables like broccoli, new carrots and young summer squash. These fresh flavors quickly became a hit across the nation, and pasta primavera is widely considered a signature dish of the 1970's.
Over the years the recipe has changed and adapted, but one thing has remained consistent – fresh veggies over pasta. Primavera may mean springtime, but the concept remains the same into fall. For a seasonal variation, we'll call it Pasta Autunno.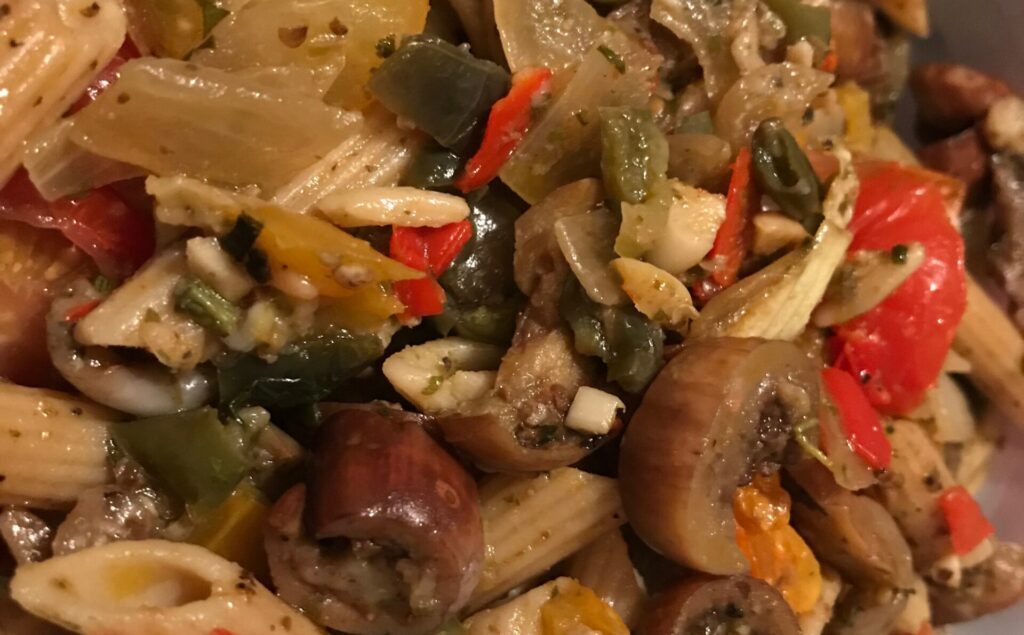 Eggplant Pesto Pasta Autunno
Ingredients:
4 Tbs butter, divided
1/2 medium yellow onion
1/2 cup chopped mixed sweet pepper – I like to use mixed colorful small peppers
1 1/2 – 2 pounds eggplant, cubed or half-mooned, salted & rinsed (see below)
3-5 cloves of garlic, mashed
1/4 cup shredded basil, divided
1/2 pound cherry tomatoes, halved
2 – 3 Tbs basil pesto – try this recipe here
2 tsp dried oregano
1 tsp paprika
1/4 cup fresh grated parmesan, divided (optional)
4 cups cooked pasta of your choice – I use penne
salt & pepper
Optional: a touch of cream or alfredo sauce
Directions: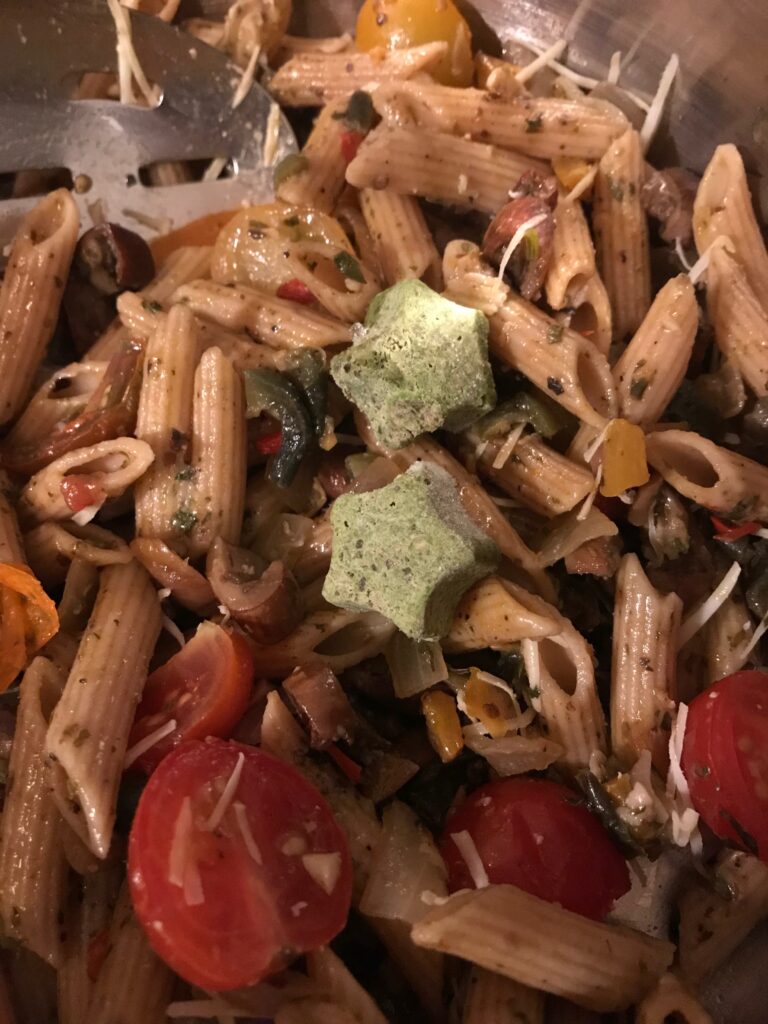 Eggplant can get bitter! The trick is to toss sliced eggplant with salt in a colander and let sit for 20 – 30 minutes, or up to an hour. Don't skip this step! The salt helps to pull the bitterness out of the skin so you can leave it on and keep the benefits of its color and texture. When the eggplant is done draining rinse thoroughly and dry – I gently squeeze out the excess liquid and pat dry with a clean towel. You can cook your pasta and prep your other veggies while this sits.
Melt 2 tablespoons of butter in a large skillet over medium heat. Add the onions and peppers with a little salt and pepper and sautee for 3 – 5 minutes.
Add in the eggplant and garlic. I usually add a little of the shredded basil at this point too. Toss in a little more salt and pepper, and a tablespoon more butter if it needs it. Cook covered for another 8 – 10 minutes, stirring occasionally.
Add the tomatoes, basil pesto, oregano, paprika, and a bit more shredded basil (save some for garnish if you like) and mix. If you have enough room, you can add the cooked pasta to the skillet – if not, you can always add the veggies and strained pasta back into your pasta pot. Add the rest of your butter, and any more salt and pepper to your taste. I toss a little bit of the parmesan in and save the rest to top when serving. Let all this cook together for a couple of minutes as you toss to coat the pasta evenly.
I prefer this dish with basil pesto rather than a cream sauce, however it is quite delicious with the addition of a touch of cream or alfredo sauce if you have some around.
Buon appetito!