Fresh recipes inspired by local ingredients by Chelsea Cochrane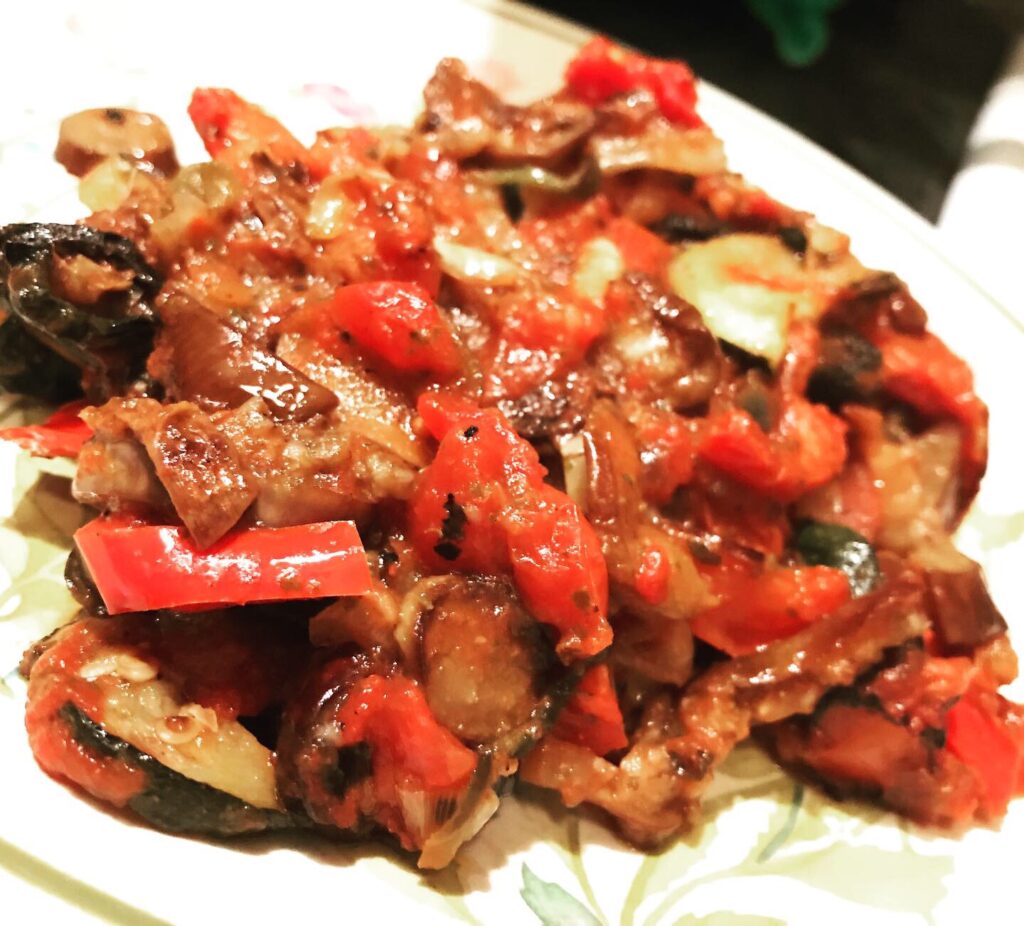 Ratatouille is one of those classic early fall dishes because it uses so many of the end-of-the-season fresh veggies that we're not quite sure what to do with now. It's really a bit of a kitchen sink stew, usually consisting of eggplant, zucchini, tomatoes and peppers. Feel free to add other veggies such as yellow squash or patty pan.
There are two down sides to ratatouille in my opinion: it takes an afternoon to make and is WAY too much food for two people. Sure you can re-invent it as a side or main course, serve it over orzo, rice, noodles, even quinoa (it's delicious!) but after day three even the best dishes get tiring. Not to mention if you want an even sear on your veggies you'll end up sauteing them in batches, which can take up the better part of a day pretty quickly.
Never fear, your oven is here! You can get a nice brown on those veggies in a fraction of the time by roasting them in the oven. Plus you get the added bonus of all your veggies cooking together and sharing their delicious flavor juices. Yum.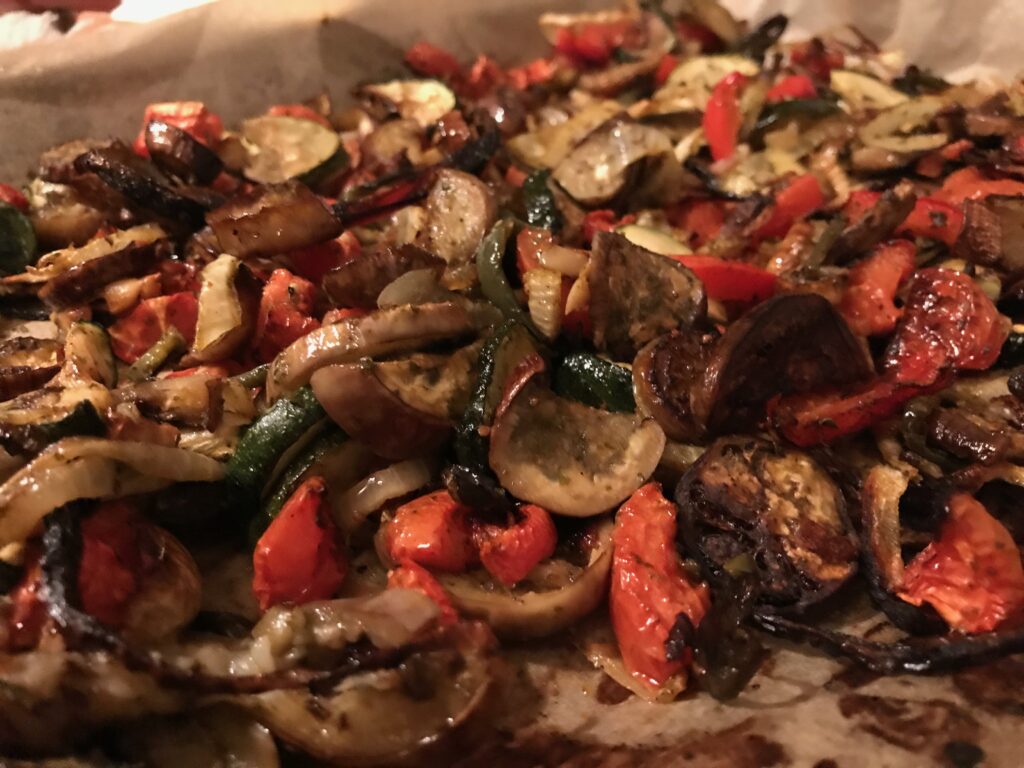 Note: roasted eggplant can get bitter! The trick is to toss sliced eggplant with salt in a colander and let sit for 15 – 20 minutes, then rinse and strain it out. Don't skip this step! The salt helps to pull the bitterness out of the skin so you can leave it on and keep the benefits of its color and texture.
So here's a quick(er) Ratatouille for Two recipe. You can always double it for more people, or freeze some for a future meal. Enjoy!
Ingredients: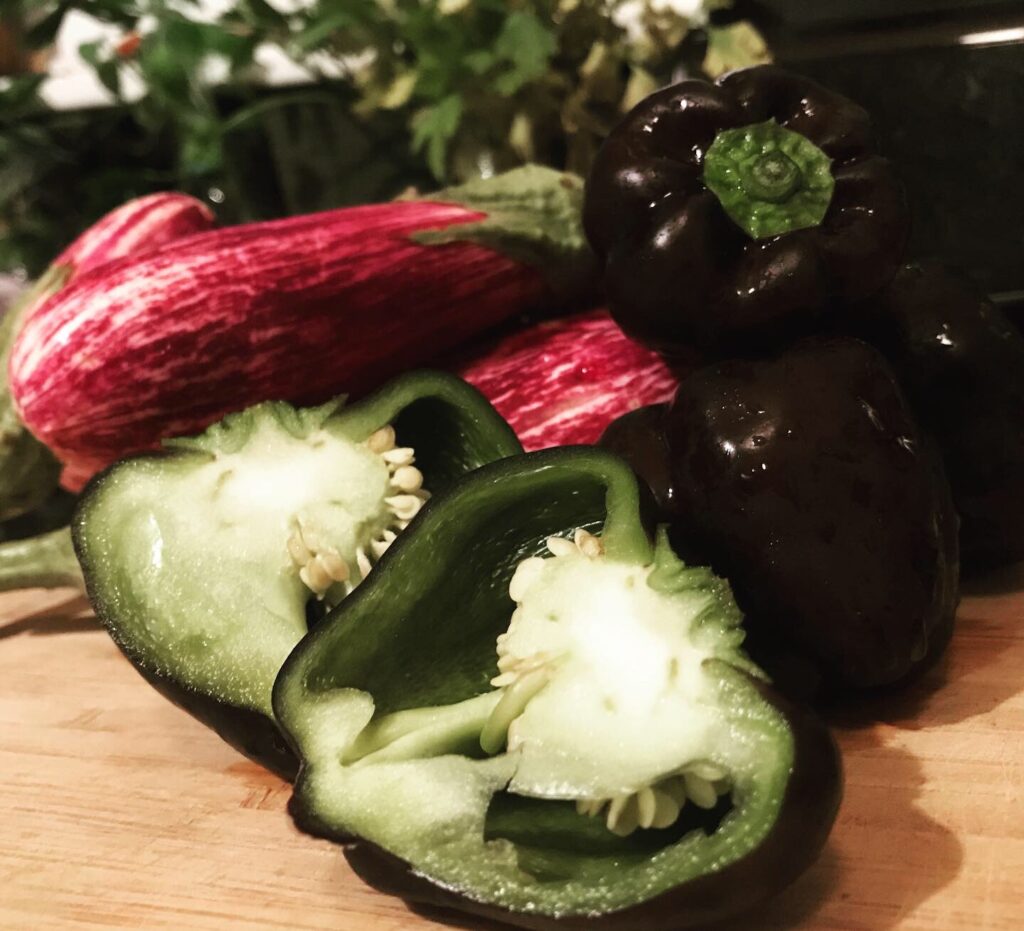 1 medium yellow onion, sliced in 1/4 inch half-moons
1/2 pound bell pepper, red or yellow (or black, like these delicious peppers from GROW.farm) sliced about 1/4 inch strips
1 pound eggplant, sliced 1/4 inch half-moons (Asian varieties seem to work best for this, and are still plentiful at the Market!)
1 medium zucchini, sliced 1/4 inch half-moons
4 medium tomatoes, cubed
6 – 8 cloves garlic, crushed
1/4 cup fresh thinly sliced basil (or 2 Tbs basil pesto) plus 2 more tablespoons for serving
1 tablespoon rosemary
2 teaspoons oregano
1 teaspoon paprika
1 teaspoon dark chili powder
2 teaspoons sea salt
1 teaspoon black pepper
about 1/4 cup low-flavor cooking oil
1/2 cup vegetable stock
1 bay leaf
Optional: 1 15oz can of stewed or diced tomatoes
Directions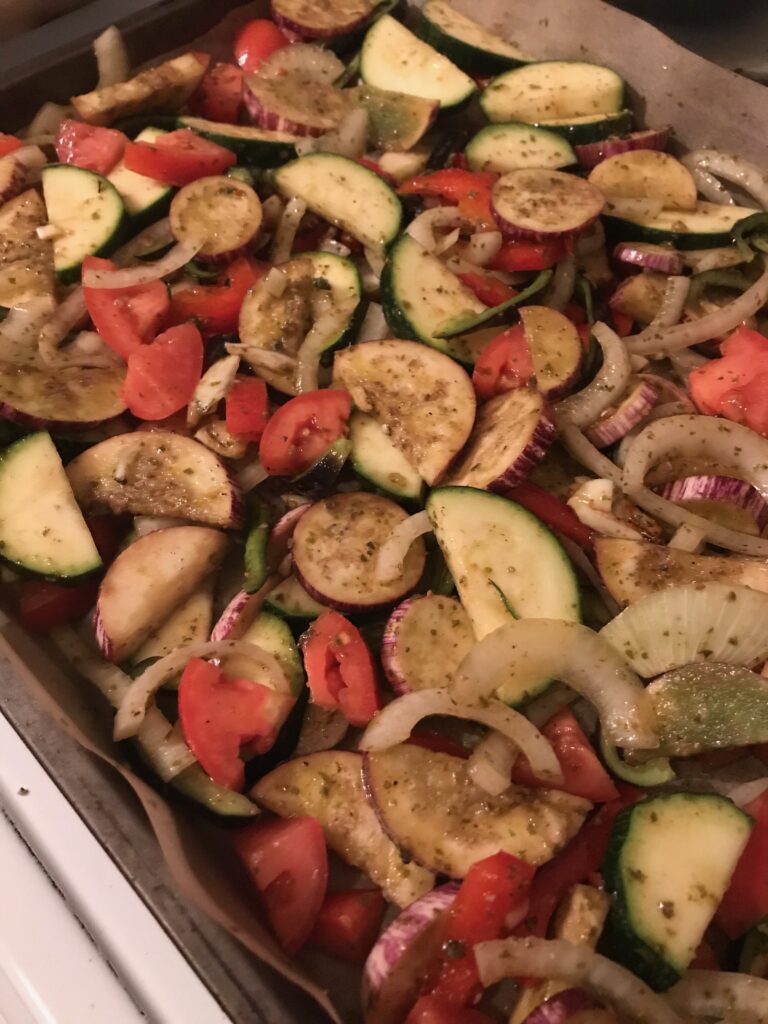 Toss sliced eggplant with salt in a colander and let sit for 15 – 20 minutes, or up to an hour. Rinse well, strain juices and pat dry.
Preheat oven to 400 degrees. Apply parchment paper over a 12×16 sheet pan.
In a large bowl, mix all ingredients except vegetable stock and bay leaf. Use enough oil to coat veggies. Toss until well combined. Spread evenly on sheet pan.
Cook 15 minutes and toss for even roasting. Continue cooking for an additional 10 – 15 minutes until veggies begin to brown. Remove from oven and let sit for a minute.
Combine in large pot with stock & bay leaf over medium heat. If you'd like a more tomato-y stew, you can add a 15oz can of stewed or diced tomatoes.
Cook just long enough for everything to meld together and be evenly heated, about 5 minutes. Stir in remaining fresh basil or serve on top.